Efforts to establish or improve national identification systems in Africa have coincided with the increasing deployment of mobile technology, leading to some actors promoting digital 'solutions' for facilitating forms of identification and registration – often via biometric attributes. With an estimated 500 million people in Africa living without any form of legal identification (birth certificate or national ID),1 the use of digital forms of identification has become increasingly popular because of their relative ease, low cost, and convenience compared to more analogue systems.
The Covid-19 pandemic has, if anything, increased appetite for digital identification platforms and technologies.2 For example, the African Union Commission is currently working towards the development of the AU Digital ID framework for consideration by AU policy organs. Among other policy instruments, this effort draws its mandate from the Digital Transformation Strategy (DTS) for Africa (2020-2030), which emphasizes the importance of digitised legal identification mechanisms on the continent. The DTS highlights both the potential social and economic implications of digital IDs for Africans, noting that digital IDs not only support social development, but also enable meaningful participation in productive processes to generate economic growth, spur innovation, and support entrepreneurship. In respect of the latter, digital IDs are seen as critical for the successful implementation of the African Continental Free Trade Area (AfCFTA).
With the growing appetite for digital ID in Africa and across the world, there is a need to examine their impact on human rights, the rule of law, and the people who will be included (and excluded) from related systems. More critical analyses of digital ID's impacts in the global south, as well as the actors involved in designing and implementing it, is at least partly important because digital identity programmes create an inherent power imbalance between the State and its people because of the personal data such interventions collect; leaving residents with little ability to exert agency in its collection, storage and use. And while increasing access to legal identification might seem prima facie positive in development processes, this is not always the case. In addition to the very real challenges of living without legal identification – whether digitised or analogue – those who do have digital identity sometimes might face other challenges. Experiences depend on context, with some digital identities being developed in an attempt to segregate or even coerce people, while others are designed under the guise of national security concerns. Some have IDs that are no longer fit for purpose in a digital age,3 while digitisation can also introduce novel risks of exacerbating inequality when analogue options are discarded (especially in African contexts with low connectivity levels).
On the other hand, digital identity systems, like all ICTs, are actively designed and shaped and therefore not inevitably detrimental from a developmental, human rights, and/or inclusion perspective.4 If digital identities are conceived and designed with concepts like human rights, developmental goals, sustainability, and safety at the forefront, they might hold more of a transformative impact for the continent (if other inequalities are addressed alongside their implementation). It is therefore crucial to continue critically examining the design, development, and implementation of these evolving systems, along with whether policymakers are doing enough (from a governance perspective) to ensure the positive outcomes of engagement with these technologies, while mitigating the risks that accompany many digital identities on the continent.
The Project
With this background in mind, Research ICT Africa (RIA) and the Centre for Internet and Society (CIS) partnered in 2020 and 2021 to investigate, map and report on aspects related to the state of digital identity in ten countries in Africa. The project looked at local (and digitised, in full or partially) foundational ID systems in Ghana, Kenya, Lesotho, Mozambique, Nigeria, Rwanda, South Africa, Tanzania, Uganda, and Zimbabwe.
The research took place within parameters set by an Evaluation Framework for Digital Identities (the 'Framework'), which was developed by CIS with the purpose of assessing the alignment of digital identity systems for compliance with international rights and data protection norms. By using this Framework, the selected country partners evaluated certain aspects of the existing governance and implementation mechanisms of digital identity in their respective and unique contexts.
The Framework introduces a series of questions against which digital identity may be tested, aiming to address the various rights and freedoms that are potentially impacted by the state use of a biometric digital identity program. More detail about the Framework can be found in Annex II.
This report is one of the ten country case studies RIA and CIS commissioned in this project. Besides being an independent case study, the findings from this report were also used to inform a comparative report put together by the RIA and CIS teams to analyse the similarities, differences, and other aspects across the ten case studies – including key recommendations for policymakers, researchers, civil society actors, and other stakeholders – has been produced.
An important limitation of the research is that the country case studies were conducted using the analytical lenses provided by the Framework, partly with the aim of assessing whether the Framework is relevant in African contexts, and might therefore not cover all aspects pertaining to digital identity in the context concerned. We elaborate on this limitation – which we feel significant in the contextually rich and diverse African context – in the comparative report.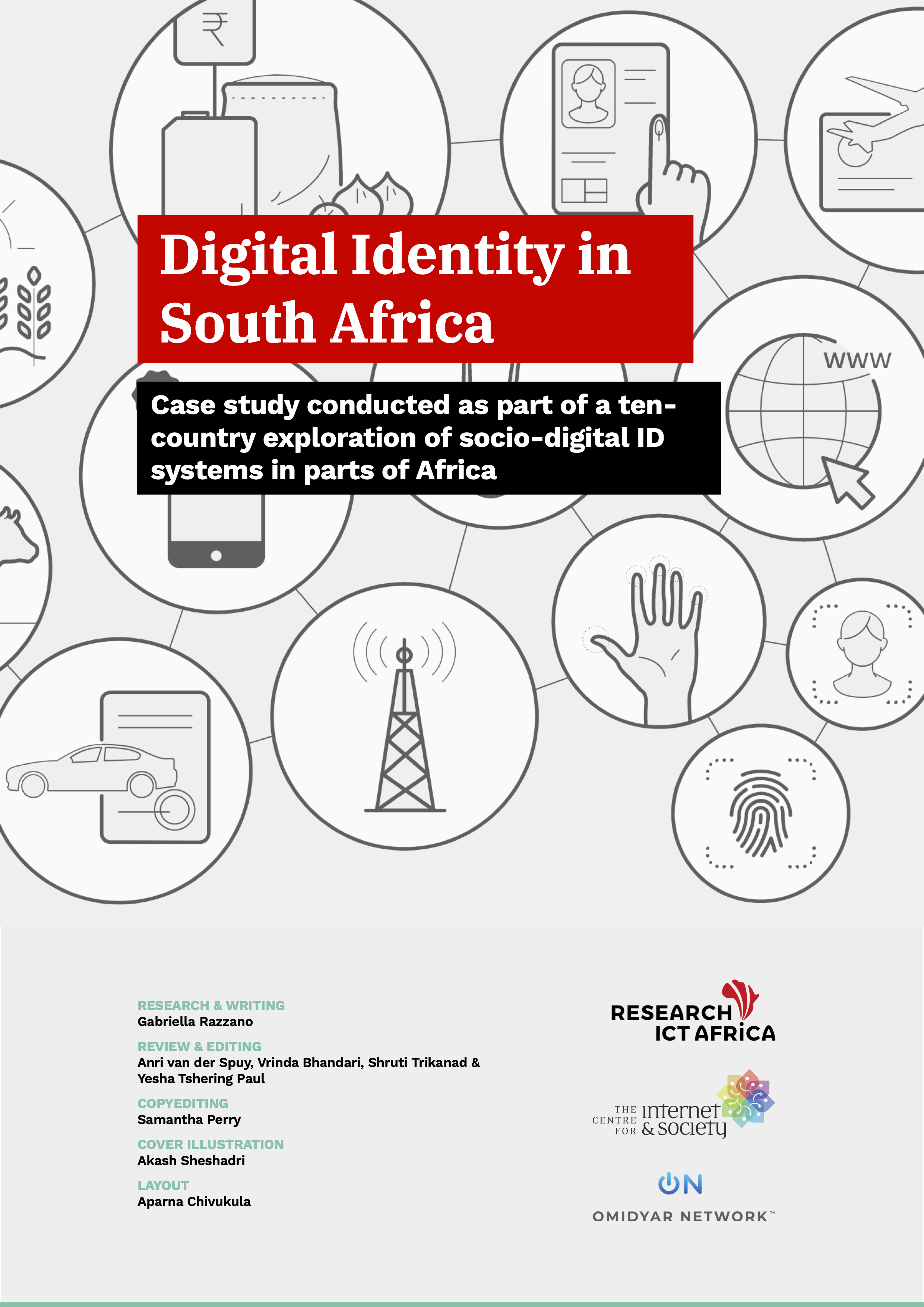 Acknowledgements
This report was made possible by the support received from Omidyar Network. The case study was conducted by Gabriella Razzano with the support of the Research ICT Africa and Centre for Internet and Society teams.